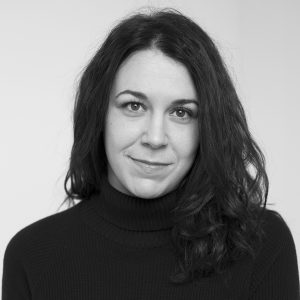 Co-founder of Hublot51, Sandra is a dedicated gal. In fact, she is so dedicated that she could follow the messenger to make sure that everyone gets their invitation in person. Her determination to ensure that every detail is taken care of is an asset in the events she is involved with. Always solutions-oriented, her thoughtful leadership allows her to both deliver results and keep people uppermost in mind. She works in the offices of Marilou David with artists such as Mara Tremblay, Jean Leloup and Bran Van 3000. The wealth of experience gained over the past decade in the production of shows, in tour management, in communications and in artist management has given her great versatility. This path has been determined primarily by her passion to follow a concept from inception to completion, adding her personal touch along the way. Her positive and enthusiastic attitude guides her every decision and is highly contagious among team members.  
---
Co-founder of Hublot51, Pierre-Luc is a cheerful fella who instills confidence and is in control. His rational mind allows him to make sound decisions and his touch of creative madness makes him push the boundaries and reinvent himself. He is always on the lookout for new trends and technologies that motivate him to get his colleagues to step outside their comfort zone and explore innovative approaches. Pierre-Luc masters the art of meditation, always lends an attentive ear and treats everyone with respect. He has gained valuable experience over the years through touring in Quebec and abroad with artists such as Jean Leloup, Ariane Moffatt and Milk & Bone. He is also involved in the production of events for a broad range of clients including Attraction Images, the International Balloon Festival of Saint-Jean-sur-Richelieu, Mosaic and Boulevard. He was awarded the Félix for best soundman of the year at the 2016 Gala de l'ADISQ.  
---
Technical director at Hublot51, Étienne is the curious and meticulous guy constantly seeking to refresh a perspective and improve a method. An ardent music lover and a keen digital arts enthusiast, fueled by a fascination for ergonomics and the relationship between human and tool, his appetite for learning and solving unique challenges is not easily sated. First a sound engineer and a musician, he one day comes across a lighting console and falls in head first. Avid and self-taught, he develops his newfound passion for lighting design on the electronic music scenes of Montreal and Vancouver, from Bass Coast to Eclipse Festival. He will be driven to perfect his lighting and technical direction skills by working from 2017 onwards with Hublot51, with whom he collaborates notably on the festivals Chromatic and Soif de Musique. He joins the permanent team in January 2019.
---