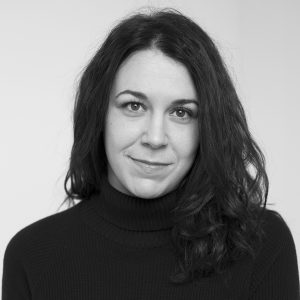 Co-founder of Hublot51, Sandra is a dedicated gal. In fact, she is so dedicated that she could follow the messenger to make sure that everyone gets their invitation in person. Her determination to ensure that every detail is taken care of is an asset in the events she is involved with. Always solutions-oriented, her thoughtful leadership allows her to both deliver results and keep people uppermost in mind. She works in the offices of Marilou David with artists such as Mara Tremblay, Jean Leloup and Bran Van 3000. The wealth of experience gained over the past decade in the production of shows, in tour management, in communications and in artist management has given her great versatility. This path has been determined primarily by her passion to follow a concept from inception to completion, adding her personal touch along the way. Her positive and enthusiastic attitude guides her every decision and is highly contagious among team members.  
---
Co-founder of Hublot51, Fannie is the gal who keeps everyone smiling, even during stressful times. This lightness helps rally a team; she knows how to unite people toward a common goal. Her thoroughness combined with this skill benefits every project. Her interest in discovering all that is new is reflected in her artistic endeavours and her ability to tailor them as needed. This instinct is no doubt due to her roles as director of programming at the Zoofest Festival, talent scout at Just for Laughs and her numerous freelance posititions at Radio-Canada, TVA and Zone 3. Fannie excels at shining a spotlight on an idea and transforming it into an authentic experience. Her love for the performing arts is revealed through the enthusiasm she brings to every project she is entrusted with. She strives to create unique events, with a commitment to finding the right balance between creativity and feasibility.
 
---
Co-founder of Hublot51, Pierre-Luc is a cheerful fella who instills confidence and is in control. His rational mind allows him to make sound decisions and his touch of creative madness makes him push the boundaries and reinvent himself. He is always on the lookout for new trends and technologies that motivate him to get his colleagues to step out of their comfort zone and explore innovative approaches. Pierre-Luc masters the art of meditation, always lends an attentive ear and treats everyone with respect. He has gained valuable experience over the years through touring in Quebec and abroad with artists such as Jean Leloup, Ariane Moffatt and Milk & Bone. He is also involved in the production of events for a broad range of clients including Attraction Images, the International Balloon Festival of Saint-Jean-sur-Richelieu, Mosaic and Boulevard. He was awarded the Félix for best soundman of the year at the 2016 Gala de l'ADISQ.  
---
Technical Director at Hublot51, Adam is always willing to find the best solution to a problem. His analytical mind and his interest in new technologies allow him to always push further. And yes, we could also call him the "geek" of the team. A graduate in Physics from McGill University, he has developed a passion for sound and has pursued this specialization for more than ten years in various venues, festivals and tours with artists such as The Franklin Electric, Jean Leloup, Coeur de Pirate and Alex Nevsky. Since the beginning of Hublot51, Adam has been present either as technical director or chief sound engineer for most of our projects. His dedication to making each event better has made him indispensable within Hublot51. He became a member of the permanent team in January 2018. 
---